Ultimate Blends Hair Drink
Our way to make hangry hair glow
HAIR DRINK
Thirsty Hair? Dig into NEW GARNIER HAIR DRINK for mirror-link shine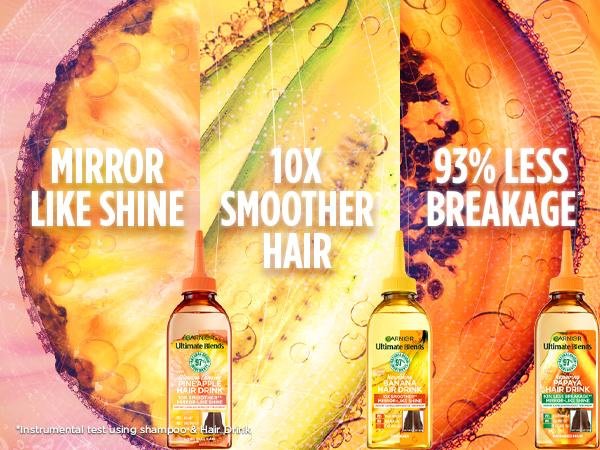 Our formulas may crystallise under 9°C. This is a natural transformation, only happening due to the presence of natural origin fatty compounds in the formula, which help to detangle, smooth and add shine. Once stored at room temperature (above 18°C), the formula will return to its original appearance in a few hours. Shake the bottle to accelerate this process.
97% NATURAL ORIGIN LAMELLAR WATER INSTANT TECHNOLOGY
A new lamellar liquid treatment generation with 97% natural origin ingredients.

Lamellar technology is composed by lamellar, ultra thin particles with caring agents that activate when in touch with damp hair, filling in irregularities of the hair fibre and delivering intense care with no weigh down!
HAIR INSTANTLY APPEARS SMOOTHER, MIRROR LIKE SHINE!
The power drink that instantly transforms the appearance of your thirsty hair. This formula easily runs though the hair surface micro-relief, polishing and smoothing it. The result? Up to 10X smoother hair* with a mirror-like-shine! No filter needed to show off your hair!

*Instrumental test using shampoo & hair drink