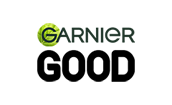 Change Hair Colour for GOOD with Garnier Permanent Hair Dye Mask
No drip, no-stress application, intensely glossy colour, visibly healthier hair
Apply Like A Mask
Discover a stress-free method to achieving gorgeous long-lasting colour in the comfort of your own home.

With a thick mask-like texture and non-drip technology, colour application has never been easier. Simply apply like a hair mask and then you're free to move around while your colour develops (with no dripping!)

Our formula is infused with a luxurious fragrance of sandalwood, goji berry & orchid, that will leave you feeling pampered and refreshed.

Test out all our Garnier shades with Hair color Virtual Try On
Trying a new shade has never been easier. Have fun changing your hair color with our virtual try-on tool.
TRY ON NOW
Colouring Made Easy
GOOD is a 90%* natural origin colour kit.
Apply GOOD hair colour like a hair mask, leave on and relax for up to 30 minutes.
Follow with the Silk and Shine conditioner, enriched with nourishing shea butter care. Leaving your hair feeling rejuvenated.
Beautiful highlights and tones are left in the hair after using our GOOD colouring kit.
*average natural origin of colouring cream, developer and mask formulas.
Unbox The Magic!
Take a Look Inside:

- GOOD Mixing tub

- Wooden spatula

- The developer cream

- The colourant cream

- Silk and Shine conditioner
What's Inside The Garnier GOOD Formula?
Our 90% natural origin kit* delivers beautiful colour results. The vegan formula** has been carefully crafted to deliver performance with no ammonia, no silicones for a natural feel with no alcohol. The conditioner is enriched with nourishing shea butter leaving hair feeling revitalised and radiant. The hair is coloured with up to 100% grey coverage and with striking highlights and tones.
*average natural origin of colouring cream, developer and mask formulas
**no animal derived ingredients or by-product