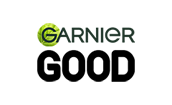 Change Hair Colour for GOOD with Garnier Permanent Hair Dye Mask
No drip, no-stress application, intensely glossy colour, visibly healthier hair
Revolutionising home hair dye! Change your hair colour for good with Garnier GOOD.

Garnier GOOD is a game-changing product - applies like a hair mask with up to 100% grey coverage, the GOOD colour creates beautiful highlights and tones.

Experience a new stress-free approach to colouring your hair, with our new non-drip formula giving you the freedom to move while your colour develops.

Colouring Made Easy
Hair is left with beautiful highlights and tones after colouring with the GOOD kit.
The included Silk and Shine conditioner is enriched with nourishing Shea Butter Care, leaving your hair feeling soft and rejuvenated.
Apply Like A Mask
Discover a stress-free method to achieving gorgeous long-lasting colour in the comfort of your own home.

With a thick mask-like texture and non-drip technology, colour application has never been easier. Simply apply like a hair mask and then you're free to move around while your colour develops (with no dripping!)

Our formula is infused with a luxurious fragrance of sandalwood, goji berry & orchid, that will leave you feeling pampered and refreshed.

Frequently Asked Questions
Q. What is the correct quantities to use? A. GOOD has the same amount as any other standard hair colour, the right quantity depends on your hair length and thickness. For short to medium hair, 1 tub is perfect! For medium to long hair use 2 tubs. For long hair or hair that is very thick, you might need to use more than 2 tubs.
Q. Is Garnier GOOD for all hair types? A. GOOD works on all hair textures and comes in 15 multi-dimensional shades to choose from.
Q. What is the difference between the application of Garnier GOOD and a traditional dye? A. GOOD comes with a 90%* natural origin kit enriched with shea butter conditioner for a rejuvenated and healthy hair. Up to 100% grey coverage**. Easy to apply, with its mask-like, stress free application and non-dripping formula with a delicate cocooning fragrance. It provides multidimensional shade, with beautiful highlights and tones.
*Average natural origin of colouring cream, developer and mask formulas.
** Instrumental + consumer test
Q. How do I prevent colour fading from my hair after dyeing? A. Garnier GOOD has up to 8 weeks of intense colour. In addition, we suggest applying repeatedly the conditioner enriched with nourishing Shea Butter care. Remember you can reuse the conditioner for your next hair washing routines up to 3-4 times.
Q. Is it a permanent colour? A. Yes, GOOD is a permanent hair colour that delivers up to 100% grey coverage.
Q. What do I expect to find inside? A. Inside the tub you will find colourant and developer sachets, conditioner, gloves, spatula and instruction leaflet.
Q. How do I make my hair colour last longer? A. GOOD provides an intense glossy colour for up to 8 weeks, keep using the conditioner regularly to help maintain the colour.
Q. Is GOOD ammonia-free hair colour? A. Yes, GOOD is ammonia free with no silicones.
Q. Is it normal if the mixture is not completely smooth during the preparation? A. Yes, there can be some lumps left, this is not a problem, just take your time to get the most homogenous mixture.